History of Pittsboro One Room School # 3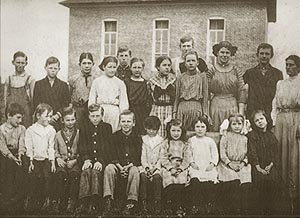 Pittsboro One Room School Class of 1911
The Pittsboro One Room School #3 was built in 1883. It was located on the farm currently owned by Frank McClung. Prior to this, it was a frame building, and was located on the Southwest corner of the Edgar Parker farm.

The school was used until 1919-1920, and was then purchased by Frank Haynes to be used for grain storage. The building was inherited by his wife, Magnetta Haynes, and then by her two daughters, Edna McClung and Helen Haynes Williams. Frank McClung inherited it from his mother and aunt. Frank McClung sold the One Room School to North West Hendricks School Corporation for $1.00 when the One Room School Committee formed to renovate it.
Frank McClung recalls that many of the teachers drove their buggys to the closest residence, Otis Waters. Their horses were stabled there during the school day, and several of the teachers boarded at the Waters home. Ruth Case was the school marm in 1911-1912. She married Everett Sparks. Her books and teacher bell have been donated to the One Room School #3 by Stella Sparks.